An active and different time for two
A three-day experience in Velenje
Water-related activities adapted to summer or winter – A descent with a lift deep underground – A summer picnic with 'pony' bikes, and a private sauna in the winter – At any time of the year, evening surprises at a special location in town
Spice up your stay in Velenje with culinary experiences with the best views and the best chefs.
The downtown Hotel Paka**** will pamper the both of you from your check-in till your departure. If you're coming over in summer, you will be able to paddle on a SUP to look for sunken villages underneath the surface of Lake Velenje and pedal off on the legendary pony bikes to a location for a picnic in nature, and in wintertime, you will first skate on the Velenje ice-skating rink and then unwind in a Finnish sauna with a jacuzzi reserved just for the two of you.
You will take the oldest continuously operating lift in Slovenia to the depth of 160 metres below ground to visit the Coalmining Museum of Slovenia. And as the fine day at the waterfront turns into the evening, you will gaze at the reflections of the Lake's surface from a restaurant. Finally, as you are rounding off the impressions of your two beautiful days, you will be served a fine dinner prepared for you by masters of the culinary art.
Recommendation: you can enhance your package of experiences with a panoramic airplane flight over the Šaleška Valley or you may hire other bicycles, booking a private Finnish sauna with a jacuzzi at the Hotel Paka*** or see the film of the weekend at the cinema.
DURATION:
3 days, 2 nights
PROGRAMME:
As agreed on the spot. It is advisable to choose the time schedules of the selected activities available upon arrival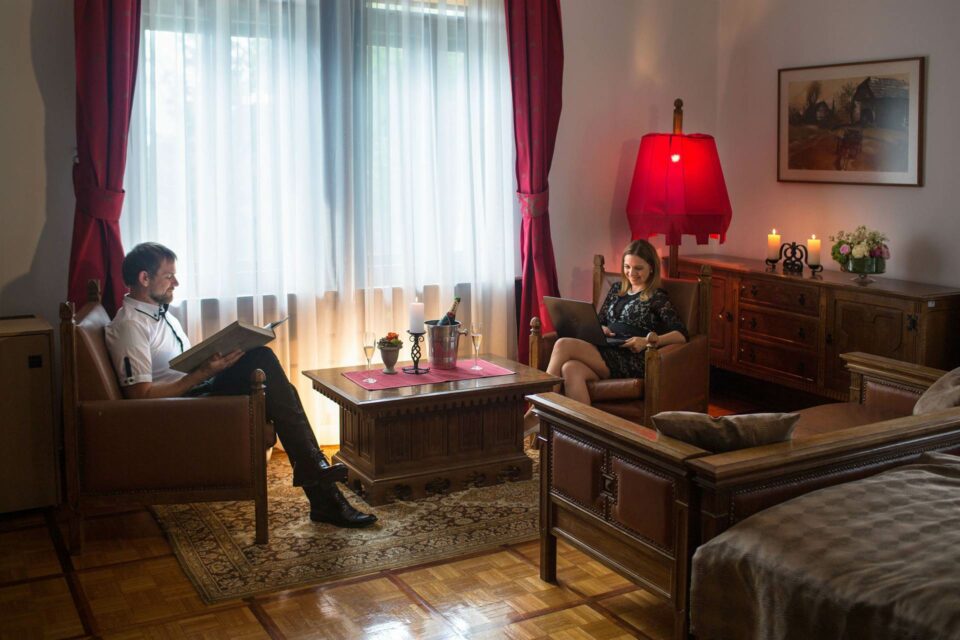 Price
359.00 EUR for 2 persons
The above price includes 2 nights with breakfast for two persons at the Hotel Paka****, the admission fee to the Coalmining Museum of Slovenia, an evening culinary experience, a parking spot in front of the hotel or in its indoor carpark.
Reservation and information
Šaleška Valley Tourism Board
T: +386 3 896 18 64
E: turizem@velenje.si