Retro Velenje
A trip down memory lane back to the socialist times: games and stories from our youth, with a typical socialist-era snack
Treat yourselves to a journey through the times when Velenje was developing into a miracle of the then socialist economy.
At the foot of the world's biggest monument to comrade Tito, the nostalgic memories of the playful camaraderie from your youth will come alive or, if you are too young to remember, you will experience what others have only been talking about.
The nostalgic encounters with the stories, items, street games and other experiences will take to the days of the socialist pioneers, youth and voluntary workers.
The challenges and tasks along the way will draw your attention to the values of collaboration while strengthening the body and the mind!
The fun-filled stroll through the centre of Slovenia's youngest town will finally lead you to the former workers' club, once the hub of the social life of Velenje's workers and miners, where you will be served a well-deserved socialist-era snack.
DURATION:
2 hours
PROGRAMME:
A guided walk past the selected locations in town:
Start: Villa Bianca
End: DK restaurant (formerly the workers' club)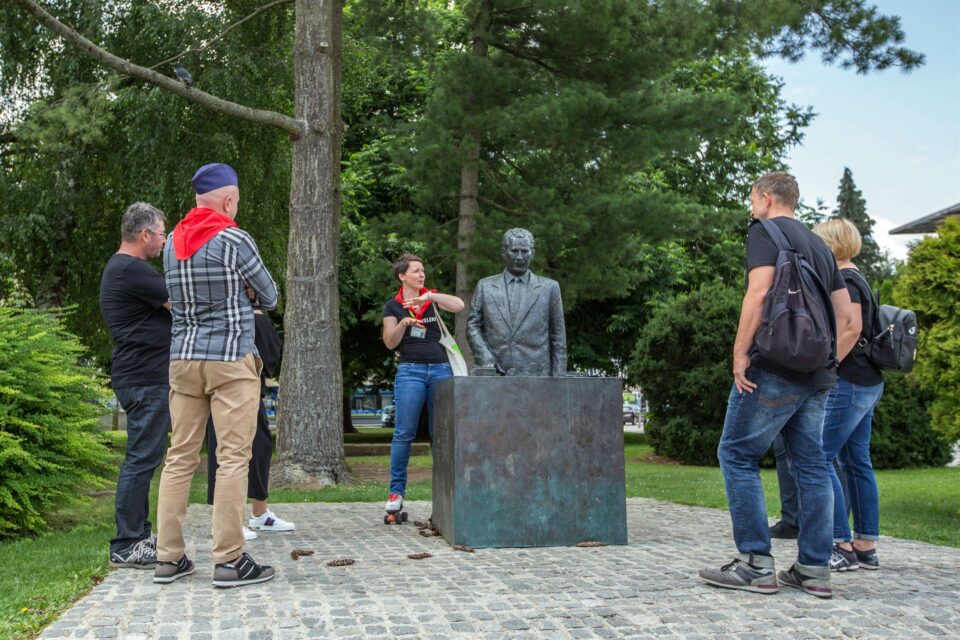 Price:
from 10 EUR per person – for groups of at least 25 participants.
Please note: If your group is smaller, send us an enquiry to obtain a modified offer.
The price includes guiding, special experiences along the way and a socialist-era snack.
The price includes VAT. We reserve the right to change the price and programme.
Reservation and information
Šaleška Valley Tourism Board
T: +386 3 896 18 64
E: turizem@velenje.si