Velenje Underground
A unique evening experience
Top-class culinary experience 160 m underground – 'Štajger's meal' prepared by award-winning chefs – Descent with Slovenia's oldest continuously operating elevator and a ride on board the coalmine train
Come by to enjoy some of the best gastronomic pleasures Slovenia has to offer. The dishes rooted in the coalminers' traditions will be a feast for all senses!
You will be met by an expert guide and provided with a light and a helmet in order to visit the Coalmining Museum of Slovenia. After the 'jump over the veal skin' miner initiation ceremony, an amuse-bouche and the miners' greeting – Good luck! – you will take Slovenia's oldest continuously operating lift and descend into the tunnels located in one of the thickest layers of coal in the world. Visit the most attractive locations of this underworld, a surprising way of learning about the mining stories of old and new.
Then enter Europe's deepest dining hall, located no less than 160 m below ground. It is here that the waiters and chefs of the gourmet restaurant, will pamper you with original dishes, inspired by local ingredients and mining traditions. The so-called 'Štajger's meal' will be accompanied with carefully selected wines and musical animation.
After this culinary extravaganza, you will embark on a thrilling mining train ride and then take the lift back to the surface, where you will enter the 'black' miners' changing room. Over a glass of drink, you will discuss your impressions, while a surprise souvenir will provide an enriching final touch that will allow you to share your memories of the experience with your family and friends.
DURATION:
approximately 3 hours (from 18.30 till 21.30 or as agreed beforehand)
Please note that the Velenje Underground experience is organised several times per year on predetermined dates or based on prior agreement.

PROGRAMME:
Meet your guide in front of the Coalmining Museum, followed by a welcome drink and a miners' amuse-bouche

Descend deep into the heart of the coalmine with the oldest continuously operating lift in Slovenia for a visit of the most attractive underground locations

Take a seat in the deepest dining room in Slovenia for your dinner – Štajger's meal consisting of four courses, top-quality wines and musical animation

Proceed on a coalmine train ride through the underworld

Finish with a visit to the miners' black changing room, where you will be served a glass of drink. The finishing touch will be a surprise souvenir gift.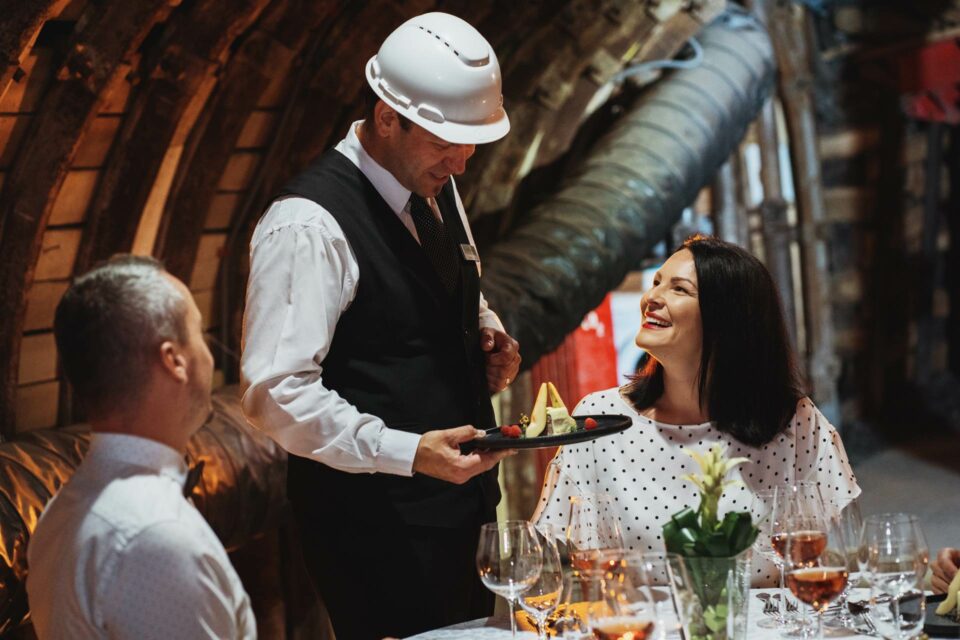 Price
for 20 or more persons: 185 EUR / person
for 10-19 persons: 320 EUR / person
for 6-9 persons: 420 EUR / person
for 4 persons: 550 EUR / person
for 2 persons: 800 EUR / person
Included in the price: organisation and guiding, lift and train ride, a discovery of the Museum's attractions and coalmining stories, 4-course meal with accompanying wines and music, a glass of drink, a surprise souvenir gift.
Reservation and information
Šaleška Valley Tourism Board
T: +386 3 896 18 64
E: turizem@velenje.si