Pattern City
If you are looking for knowledge that you believe you have, this is often the most you will ever find.
The Pattern City is an ecosystem, an open space for creative confrontation with the ever-changing world of technological progress as well as social and environmental changes. A space in which all city and region participants collaborate to develop a sustainable and effective strategy for societal development.
People are natural pattern recognizers. When we recognized the danger in a faint noise from the bushes in prehistoric times, or when we quickly fly page after page of letters and numbers today, we use patterns to identify meaning without having to do a more detailed examination.
Ray Kurzweil, a futurist, and entrepreneur, believes pattern recognition is so important that he argues in his latest book, 'How to Create a Mind,' that pattern recognition and intelligence are essentially the same things. Professionalism, on the other hand, is essentially knowing the patterns from a specific field.
Within the Smart specialization, we carry out activities in all areas of digital literacy, including work with young people, immigrants, encouraging the inclusion of women in science, working with young people with special needs, enabling and encouraging the acquisition of current competencies for better career equipment, and non-formal education for all visitors of Pattern City.
A brief visit to the Pattern City ecosystem raises the learning-only threshold and activates development, research, and innovation activities. Pattern City promotes science, knowledge, and understanding through curriculum, modern technologies, international cooperation, intercultural dialogue, and interdisciplinary integration, and effectively intervenes in the segments of culture, art, research values development, modern technologies, holidays, economy, and innovative and social entrepreneurship.
The Velenje Pattern City's most recent acquisition is the author's Escape Room, called the Little Yellow Wagon, which is intended for visitors aged 12 and up in groups of 4 to 6 people.
The experience is extremely appealing, and the atypical puzzles follow one another, making the escape suitable for beginners. The escape room is also intended for companies and other groups that want to put their skills in group problem solving under time constraints to the test.
More on their FB page.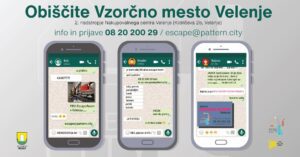 DELOVNI ČAS:
– od pon do pet: od 14.00 do 19.00
KONTAKT:
Kidričeva cesta 2b
SI – 3320 Velenje

T: 0820 200 29