The Coal Mining Museum of Slovenia
The completely renovated underground Museum of Coal-mining in Slovenia provides its visitors with a unique experience of coalminers, who for decades descended 160 metres below the ground to dig for the "black gold". A variety of 20 exceptional scenes from the life of miners and 15 life-size models including sophisticated audiovisual equipment will bring the past into life to give you During an hour and a half of a thrilling journey to the recent past you will see the mining machinery and infrastructure used in the last few decades of the Velenje Coal-mine development. The journey ends with an exciting ride on an underground train.
In the outdoor area of the Museum you can have a look at a typical miners' dwelling from the 1930's, illustrating a humble life-style of miners of that period. A detailed picture of the development of coal-mining in Slovenia is shown in ten thematic sets. The museum's park is the venue for a number of exhibitions such as presentation of the timber substructure, history of coal-mining in the Šalek valley compared to global achievements and events, presentation of subworks using steel separating support, presentation of the history and development of shafts, and an exhibition of coal trucks next to the old mine shaft.
OPENING HOURS:
– From Tuesday to Saturday: 9.00 AM – 4.30 PM
– Closed at Mondays and Sundays
CONTACTS:
Koroška cesta – Stari Jašek
SI – 3320 Velenje
Slovenia
T: +386 3 587 09 97
F: +386 3 587 09 97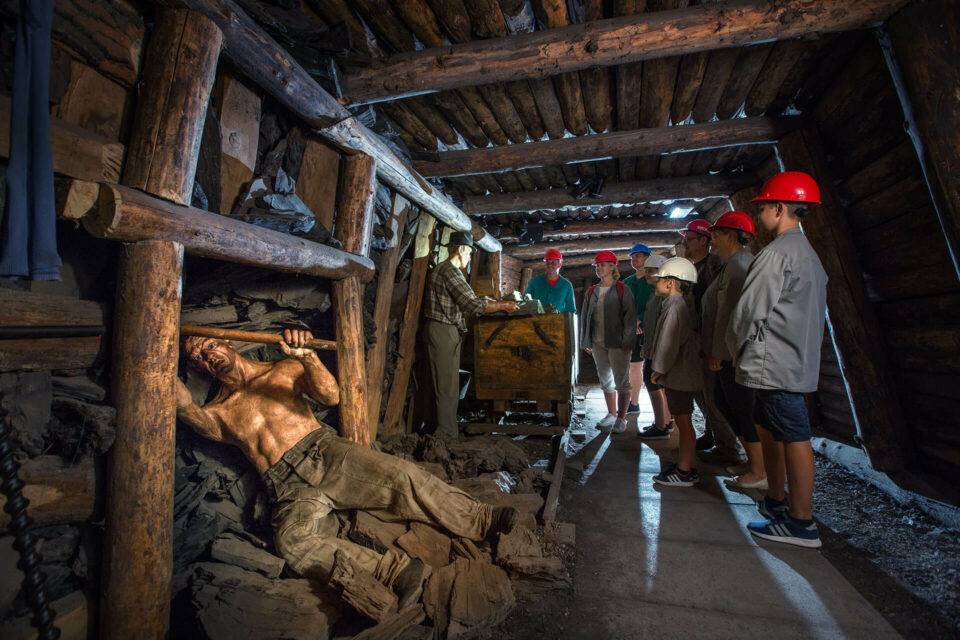 Price list
VISIT TO THE MUSEUM OF COAL-MINING IN SLOVENIA – THE UNDERGROUND SHAFT:
– adults € 11.00
– senior citizens € 9.00
– children and students € 7.50
The price of the ticket includes a miners' snack (the Slovene spiced pork sausage, bread and juice or a vegetarian menu) for all visitors.
VISIT TO THE MUSEUM OF COAL-MINING IN SLOVENIA – ABOVE THE GROUND:
– adults €4.00
– senior citizens €3.50
– children and students €3.00
Visitors to the underground museum are granted free entrance to the Slovene coal-mining collection exhibition located in the "Bela Garderoba". Exhibitions above the ground are not guided.