Jump into Lake Velenje
Relaxation, recreation and surprising lake experiences
Velenje beach won the category of natural beaches in the Best Beaches 2022 selection for the fifth year in a row.
Relaxation is ensured by its clean water, friendly bars, free use of sunbeds and arranged wooden surfaces, as well as various opportunities for water sports and other recreation, unforgettable experiences, and various animations and events.
When looking for inspiration to exercise and for different water experiences, find  Zoo station, Velenje's own "Ministry of Beach Culture," where you can borrow a PADDLEBOARD or SURF.
The Water Sports Club provides a great starting point for stand up paddleboarding, surfing, and sailing with Optimist and Laser sailboats. We recommend a ride on the 'pletna' boat and the electric boat along Lake Velenje, from which you have a beautiful view of the surrounding hills, the beach, and the beautiful world of sunken trees for those who like to indulge in pleasure. The 'pletna' boat has a capacity of 16 people, while the electric boat has a capacity of 7 people. The ride is available from Friday to Sunday between 3 pm and 7 pm, and by prior arrangement during the week.
Tennis courts, beach volleyball, football, basketball, a mini-golf course, and a golf driving range are also available for recreation. The Lakes with their trails are a popular area all year round for longer walks, cycling and horse riding. Here, children enjoy the playground equipment at the free water park and playgrounds by the lake.
Water polo goals can be found in Lake Velenje for those who enjoy playing ball games in the water. We recommend that you play the game in groups of seven people. The teams attempt to score by striking the ball into the opposing goal. The game lasts 4 x 8 minutes, with two 2-minute breaks in between and a 5-minute break between halves.
We also place a high value on the development of sustainable tourism at the Šaleška Valley Tourist Board. Following this outlook, we have arranged for larger waste bins made of natural materials.
Do you know how we improved our beach offer this year?
A special mobile deck chair is available for disabled people to use on the beach and in the water. Use of the deck chair is free of charge. We recommend that you make an appointment with the Velenje Water Sports Club ahead of time. We strive to make the tourist offer more accessible to vulnerable groups and to promote the growth of accessible tourism. Velenje Municipality is also accessible to the disabled, which we are very proud of.
One of the more noticeable and appealing novelties on Velenje beach is the swimming pool for children, which is located near the bank and pier at the lake's entrance. Families with children are an important target group, and Velenje is also a UNICEF-designated child-friendly city.
Velenje beach has two playgrounds for children. One is on land near the boathouse, and the other is in the water. The water park is one of the largest and most popular in Slovenia, with over 600 children visiting daily in good weather. There are additional paid facilities for children as part of the beach bar (trampoline and swimming pool with electric vehicles).
ERICA conducts a water analysis of Lake Velenje once a week (Institute for Ecological Research). The results of measurements and analyses show that, at the time of sampling, the quality of Lake Velenje at the boathouse location met the standards for bathing water quality established by the Decree on bathing water quality (Official Gazette of the Republic of Slovenia, No. 25/08).
A wide variety of ice creams, innovative waffles on a stick, smoothies, grilled dishes, cold cuts, salads, and other offers round out the catering options on Velenje beach.
This year, we've added two new wooden changing cabins that can accommodate four people at a time. We used environmentally friendly materials.
From Monday, August 2, until the end of September, parking on Velenje beach will be charged. There will also be free parking for the disabled and motorcyclists (in front of the ramp).
The funds raised from the parking fee will be used to organize and improve Velenje beach, as well as to further develop this tourist destination, which, along with Vista, is quickly becoming one of Slovenia's most popular.
We encourage Velenje residents to visit the beach in other ways, such as by walking, riding their bike, riding with Bicy, or taking the free Lokalc bus. We have also recently established a new station on the Velenje beach for Bicy system users. Velenje and Šoštanj residents can also take advantage of free bus transportation. In Velenje, in July and August, we extended Lokalc's driving time until the evening on the yellow track on Saturdays and Sundays. At 7.28 p.m., the last Lokalc departs from the Jezero Restaurant for the city.
Velenje beach has some natural shade, but the majority of it is reserved for those who prefer to lie in the sun or set up their umbrellas. There is also a dog beach nearby for your four-legged friends.
 The attendant's service and lifeguards keep order and safety on Velenje beach.
We are proud that Velenje beach receives 60,000 satisfied visitors each summer.
Come enjoy the view and the chosen experience at VISTO – a park with a view.
Climb to an attractive viewing platform for panoramic views of Lake Velenje or attend one of the many events held at the lake's mouth. If you need more tourist information, go to TIC Vista, where they will gladly assist you.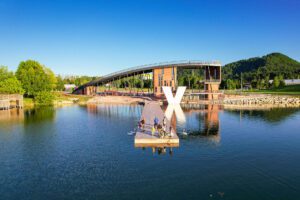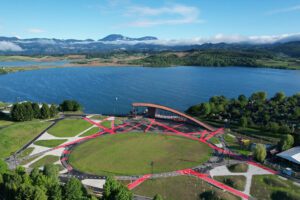 Price list for the use of premises on Velenje beach
Price list for the use of premises on Velenje beach by the general public for business purposes